»
Safety Tips for Motorcyclists - Obtain and Utilize Safety/Protective Equipment
Purchase a
helmet
with:
A hard outer shell.
Sufficient vents.
A comfort liner to ensure proper fit.
A visor to protect your nose, cheeks, and eyes.
An impact absorbing liner.
A retention system so that your helmet stays on your head in the event of an accident.
Proper foot and hand wear.
While riding, protective footwear protects you from debris and heat, and by helping your feet maintain their grip on the motorcycle. Footwear also protects your feet and ankles in the event of an accident.

Gloves not only protect your hands, but enable you to maintain a good, solid grip on your motorcycle handles.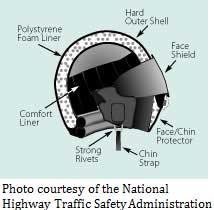 Proper, protective clothing
Wearing the correct clothing will protect you from debris, the elements, and in the event of an accident. Sturdy materials and easily visible colors should be chosen. Clothing should not be loose, but also not so tight that you cannot freely move. You need pants and a jacket, or a full body suit.
Follow Our Laws
Do not drink or consume drugs and then drive.

Of accidents involving no other vehicles, 42 percent were due to a motorcyclists' use of drugs or alcohol.

Obey speed limits.

Of accidents involving no other vehicles, 48 percent were due to excessive speeds.

Use your turn signal when changing lanes.

Many times, other vehicles do not see motorcyclists.

Stay in your lane.

Too many accidents are caused by motorcyclists riding on the shoulder.
Be Aware
Over 90 percent of accidents are caused by factors not relating to equipment malfunction or weather conditions; you must be aware of your surroundings.
More than 50 percent of all motorcycle accidents involve another vehicle. You need to:

Constantly observe other vehicles around you.
Remain outside of other motorists' blind spots.
Be cautious when approaching an intersection.
Double check yourself and other motorists before changing lanes, passing, and turning.

Know your driving capabilities.
Know when the weather is too adverse to drive in.
Check your bike on a consistent basis for defects, damage, etc.
Concentrate
Stow distracting electronics like cell phones and MP3 players.
Keep your eyes on the road ahead of you.
Unless necessary, limit conversation between you and your passengers.
Gina Williams is a guest post and article writer bringing to us information on motorcycle safety. Gina also writes on how to avoid a motorcycle accident.
Comments
Add your comments
For more Motorcycle Safety articles: